Control Device:Controller
RC-234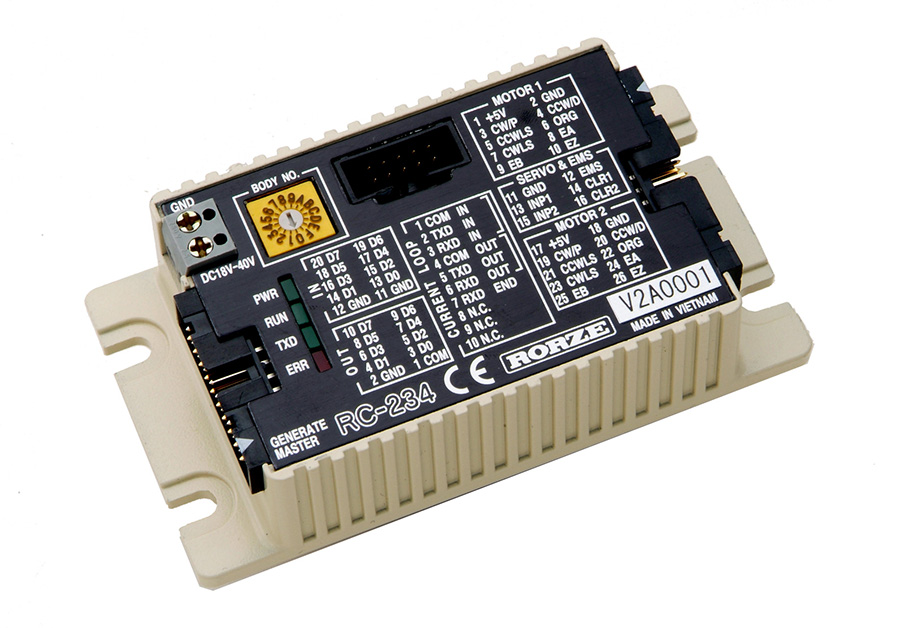 Product Features
RC-234 is a motion controller that enables the control using the pulse string of the stepping motor and servo motor.
One RC-234 can control 2 motors at the same time and can perform arcuate/linear interpolating control on the 2-axis X-Y plane.
CE Marking compliance.
Smooth operation without shock or dumping is available using the S-curve acceleration/deceleration control.
Position compensation and motor stall detection are available by attaching the encoder.
Stand-alone operation and PLC control are available using the user program.
Pulse output of max. 1 Mpps pulses is available in use for the high division micro-step driver.
Combination of up to 20 controllers (RC-208A and RC-234) is available as the Host controller of one PC.
Main Specifications of the Product
Power voltage

18 to 40V DC (absolute max. rated voltage: 40V)

Power current

100mA or less (when using power of 24V DC)

Pulse rate

0.1pps to 1Mpps

Positioning range

0 to 16,777, 215 pulses or -8,388,608 to +8,388,607

Number of positioning data

1,000 (each axis)

Acceleration/deceleration method

S-curve acceleration/deceleration, Trapezoidal acceleration/deceleration

Interpolating function

2-axis arcuate/linear

General input

Input and output: 10points each (8points when using servo motor)

Motor stall detecting method

Encoder or STALL sensor

Communication method

Current loop method (RC-002 is additionally required.)

Communication speed

38400, 19200, 9600, 2400, 1200, 300 (bps)

User program

Storage capacity: 8kbyte (approx. 1500commands or equivalent)

Driver compliance

Pulse string input type (RD-0 series)

Number of control axes

2 axes (simultaneous control available)

External dimensions

27.5 (H) × 105 (W) × 56 (D) (mm)

Mass

Approx. 250g
Product External Dimensions
For request materials and inquiry about our products, click on
this link