Control Device:Controller
RC-208A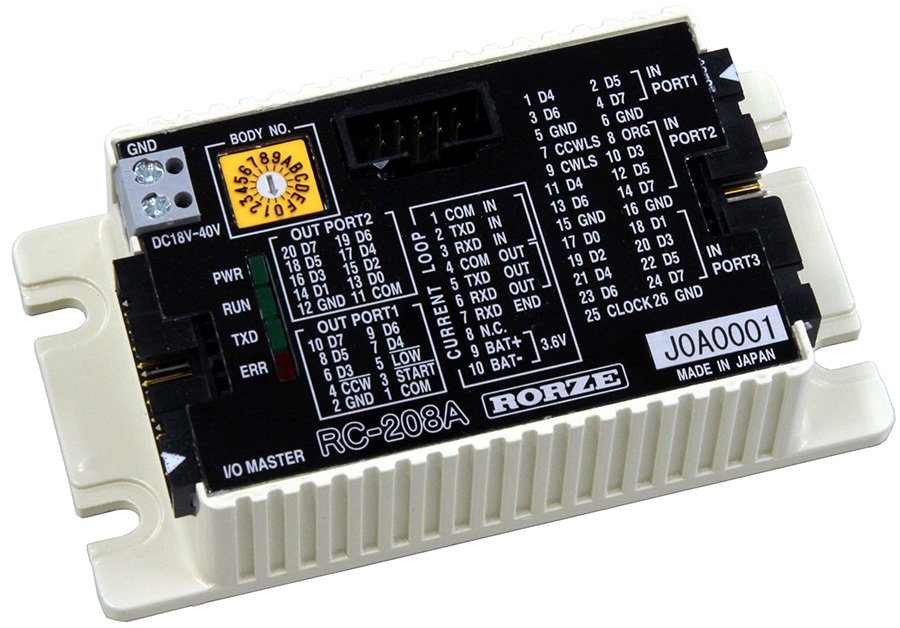 Product Features
I/O Master RC-208A is a controller that can perform I/O control by serial communication. The pulse counter is built in, therefore, the motor control by the simple trapezoidal drive is available by combining with RORZE pulse oscillator built-in driver.
All I/O ports can be optionally used if the motor is not controlled.
Motor stall detection is available by the sensor and motor stall detecting slit. (Note that discal slit is disabled.)
Combination of up to 20 controllers (RC-208A and RC-234) is available as the Host controller of one PC, and low-cost multi-axis independent control is realized.
Stand-alone operation and PLC controller are available using the user program.
Main Specifications of the Product
Power voltage

18 to 40V DC (absolute max. rated voltage: 40V)

Power current

30mA or less (when using power of 24V DC)

Clock response frequency

Max. 100kpps (when motor stall is detected: 80kpps)

Positioning range

0 to 16,777, 215 pulses or -8,388,608 to +8,388,607

Number of positioning data

1,130

Acceleration/deceleration method

Trapezoidal acceleration/deceleration

General input

Input: 20points, Output: 16points (including motor control inputs/outputs)

Motor stall detecting method

STALL sensor

Communication method

Current loop method (RC-002 is additionally required.)

Communication speed

38400, 19200, 9600, 2400, 1200, 300 (bps)

User program

Storage capacity: 9kbyte (approx. 1500commands or equivalent)

Conforming driver

Pulse oscillator built-in type (RD-1 and RD-3 series)

Number of control axes

2 axes (only alternating control)

External dimensions

27.5 (H) × 105(W) × 56 (D) (mm)

Mass

Approx. 250g
Product External Dimensions
For request materials and inquiry about our products, click on
this link