Life science automation products
Mechatronics CO₂ Incubator SCALE120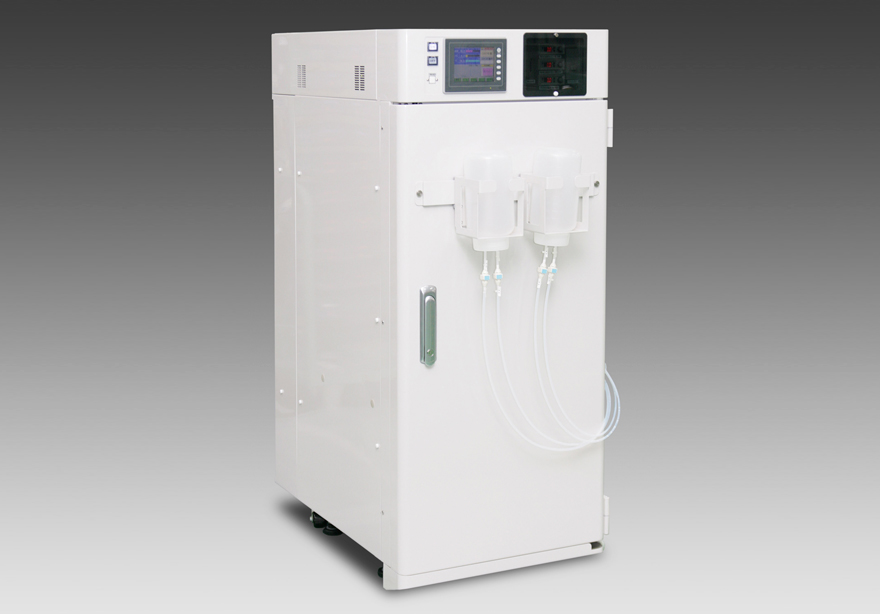 Product Features
SCALE120 is an incubator, on which the transfer robot is mounted, and strongly supports the automation of cell culture using AsuRa®, the integrated scheduling software package for bio automation.
The dry heat sterilization function using direct heating is provided as a standard.
High reliability is realized by completely isolating the electrical components and drive system from the inside of the chamber.
Stable culture for up to 120 plates is performed using the carousel type turntable.
The inside of the chamber becomes flat by removing the turntable; therefore, cleaning can be easily performed.
Change of the environment inside the chamber when carrying in and out the plate is prevented using the shutter method.
Main Specifications of the Product
Containing plate

120 pcs (20 × 6 racks)

System size

W620 × D882 × H1470

Capacity/Mass

230L/255kg

Heating method

Direct heater

Temperature control method

PID control

Power voltage

100V AC, 15A

Remote control

RS232C or TCP/IP

Display function

Plate contained state
Environment state: Real time

Temperature setting

[Temperature setting for culture] Room temperature + 7℃ to 50℃
[Temperature accuracy] 37 ±0.5℃
[For sterilization]125℃ or more Environment state: Real time

Humidity

90% or more

CO₂

0 to 20%

N₂ for low oxygen (option)

Down to 1% (oxygen concentration)

Finish time

[25℃ to 36.5℃] Within 2 hours
[25℃ to 125℃] Within 3 hours

Interlock

Door lock when sterilizing

Product Dimensions

Materials

For inquiry on this product, please click
on this link

SMART LAB SCHEDULING PACKAGE

Product Features

AsuRa® is the integrated scheduling software package for bio automation that is newly developed for strongly supporting the cell culture technology "to give life" to the cell that is the base of the life sciences.

Centralized Management and Automation for All related to Culture of Cells

For the culture of the cell including iPS cells, the condition settings and management of a complicated process including dissemination, culture, nutrient medium exchange, monitoring, and collection are required. The management of necessary expendables, supply and disposal of nutrient medium (reagent), and input information and output data is required. To perform all automation (unmanned) of them, the flexible and powerful integrated scheduling software together with the systematized hardware (combination of devices) is essential. The control has been assumed to be impossible by conventional scheduling software. AsuRa® automatically manages and completes fully automated culture plan of the condition and progress of a series of cell culture process for every plate (dish) by totally controlling the robot, transfer system, incubator, dispenser, detector, expendables, and reagent supply and disposal devices which comprise of the automated system according to parameters and protocol (schedule) set by the user. Furthermore, the data such as cell information, culture condition, and work/monitoring/detection results are stored and managed. In addition, the big characteristic is that the culture plan can be interactively added/changed at any time without stopping the culture plan in progress.

Example for Software Screen

Overview screen

Schedule (Gantt chart)

Plate control screen

Recipe control screen

For inquiry on this product, please click
on this link