Wafer Handling System:Vacuum Wafer Robot
RR481L200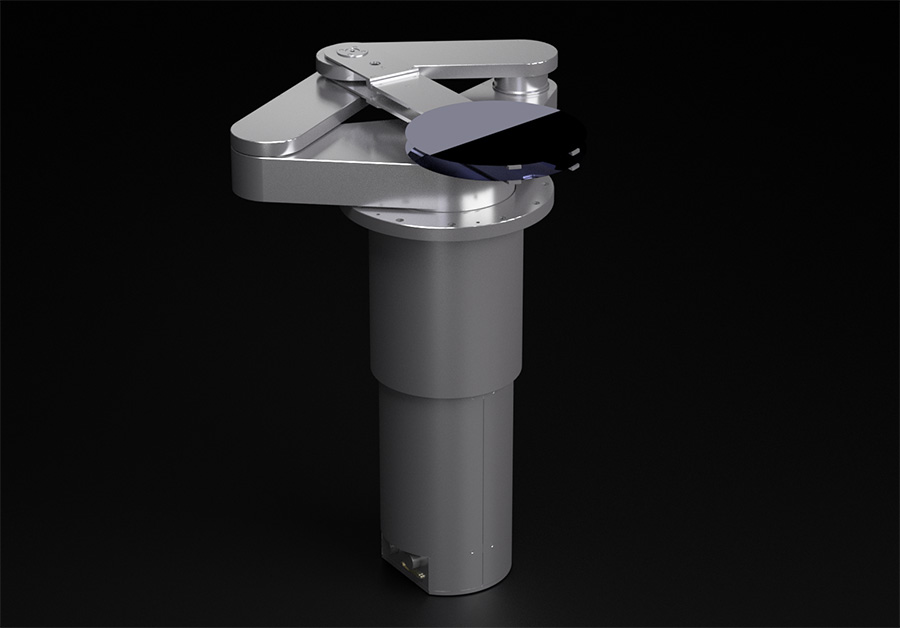 Product Features
The RR481/boomerang arm vacuum robot (double-arm) realizes the high positioning repeatability and highly reliable vacuum partition performance by adopting DDM (vacuum direct drive motor) for the drive section. The arm mechanism driven by steel belt realizes the adoption of long end-effector even with small rotation area.
Small rotation area.
Long end-effector available for long reach.
Available for narrow gate opening size (15mm).
High accuracy.
Available for ultrahigh vacuum.
High throughput.
Available for the AWC option (wafer position compensation).
Main Specifications of the Product
Substrate size

Up to 300mm wafer

Capacity

3.0kg/10 Nm, Note: For wrist attachment section (including end-effector)

Transfer distance of substrate center

715mm (for 300mm wafer)

Z-axis stroke

70mm/140mm

Rotation range

Rotation not limited

Rotation diameter

530mm

Transfer accuracy (X,Y)

±0.1mm

Mass

100kg

Vacuum-proof level

10E-6 Pa

He leakage rate

5x10E-9 Pa.m3/sec He (Base vacuum 5x10E-4 Pa)

Operating temperature

80℃ or less

Materials used in vacuum

Alminum, Stainless steel, AM350 (Bellows), Magnet with Ni plating spec., Fluorine-based O-ring

Motor specifications

Vacuum direct drive motor (Z-axis: Servo motor)

Encoder specifications

ABS

Utility

48V DC (motor drive), 24V DC (communication)

Communication specifications

TCP/IP

Option

Teaching pendant, Power unit (200 V AC input)
Product Dimensions (Standard Specifications)
For request materials and inquiry about our products, click on
this link