Control Device:Stepping Motor & Driver
RD-024MB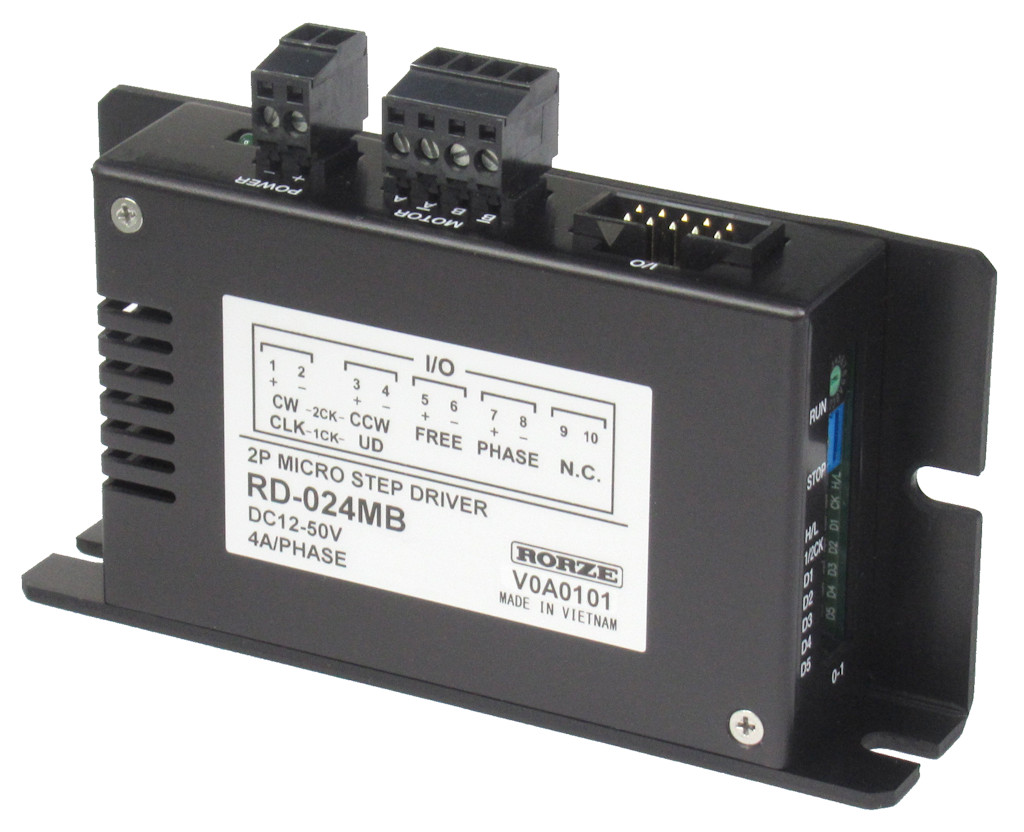 Product Features
RD-024MB is a 2-phase Stepping Motor Driver that enables the micro-stepping drive. Positioning control by the pulse string signals from Generate Master RC-234 is available.
Max. 50 V DC supply enables high speed operation.
New circuit method largely reduces heat generation more than existing products in spite of being high output.
Low vibration using high resolution micro-stepping.
All signal input/output circuits are insulated using photo-couplers.
Switching between 2-clock method and one clock method is available.
Automatic current down (adjustable current value).
Main Specifications of the Product
Power voltage

12 DC to 50V (absolute max. rated voltage: 50V)

Power current

Approx. 1.2times (max.) the rated current value/phase of the stepping motor to be used

Motor drive current

0.4 to 4.0 A/phase (0.4 to 3.0A: 0.1 A step) (3.0 to 4.0 A: 0.2 A step)

Drive method

Bipolar constant current chopper method

Micro-step resolution

1/1 to 1/400 of the motor basic stepping angle
Note: Settable micro-stepping resolution (22 selections)
 1, 2, 4, 8, 16, 32, 64
 2.5, 5, 10, 20, 40, 80, 160, 320
 6.25, 12.5, 25, 50, 100, 200, 400

Auto. current down

0 to 100% of the run current after 0.3 seconds of inactivity of clock according to STOP CURRENT setting

Response frequency

500kpps max.

Protective circuitry

Over current, low supply voltage, and motor break protection

Operating temperature range

0 to +50℃ (Radiate heat so that the case temperature is 65℃ or less.)

Operating humidity range

85%RH or less (non-condensation)

External dimensions

22.6 (H) × 105 (W) × 65.6 (D) mm

Mass

Approx. 100g
Product External Dimensions
For request materials and inquiry about our products, click on
this link