Thank you very much for taking your time to visit Rorze booth and joining braking lid of Sake-Barrel to celebrate for Rorze upgraded to 1st section of Tokyo Stock Exchange at Semicon Japan 2016.
During the show, we have displayed new products like new robot to handle Fan-out panel for semiconductor purpose, Rorze original shutter type N2 Load-port, etc.
Due to the limited time of the show, we are afraid that we could not provide enough explanations about new products.
So please do not hesitate contact our staff for more detailed explanations about our new products. We will keep you up to date on subsequent developments.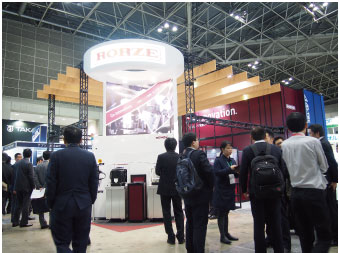 Rorze booth
SEMICON Japan 2016
Products
N2 Loadports (EFEM)

Fan-out
panel transfer robot RR759

Vacuum robot RR581

Software
solution products
Sake Barrel Ceremony "Kagami-Biraki" (happy hour)
Inquiry about products
| | | |
| --- | --- | --- |
| Sites | TEL. | FAX. |
| Head quarters | +81-84-960-0001 | +81-84-960-0200 |
| Kanagawa FA center | +81-46-236-1380 | +81-46-236-1381 |
| Kyushu factory | +81-96-292-4100 | +81-96-292-4105 |