Control Device:Stepping Motor & Driver
RD-323MS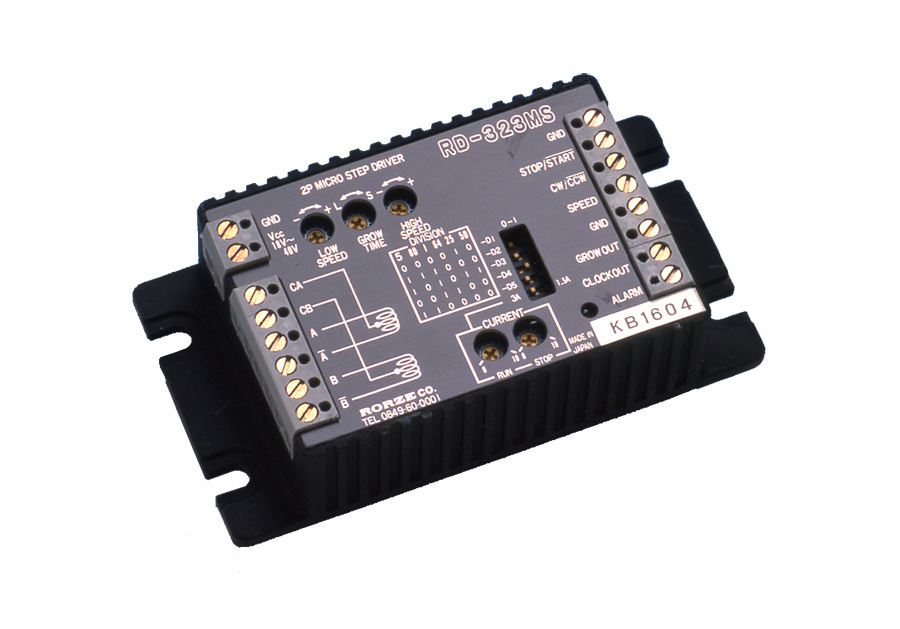 Product Features
RD-323MS is a 2-phase Stepping Motor Driver that enables micro-stepping drive. Positioning control is available using the counter built-in I/O Master RC-208A because the pulse oscillator is built in.
Built-in pulse oscillator simply enables trapezoidal acceleration/deceleration operation.
Rotational speed can be set by the analog voltage.
Low vibration using high resolution micro-stepping.
Automatic current down circuit is used. (adjustable current value).
Main Specifications of the Product
Power voltage

18DC to 50V (absolute max. rated voltage: 40V)

Power current

Approx. 1.2times (max.) the rated current value/phase of the stepping motor to be used

Motor drive current

0.3 to 3.0A/phase

Drive method

Special bipolar constant current chopper method

Micro-step resolution

1/50 to 1/80 of the motor basic stepping angle
(Number of output pulses: 1/1 to 1/80 of the motor basic stepping angle)

Auto. current down

0 to 80% of the run current after 0.3seconds of inactivity of clock according to Stop current setting

Oscillating frequency

700kpps max.

Variable speed function

Analog input

Acceleration/deceleration time

20msec to 3sec

Protection function

Overheat, over current and low supply voltage protection

External dimensions

27.5 (H) × 105 (W) × 56 (D) mm

Mass

Approx. 250g
For request materials and inquiry about our products, click on
this link