Wafer Handling System:Stocker
BWS600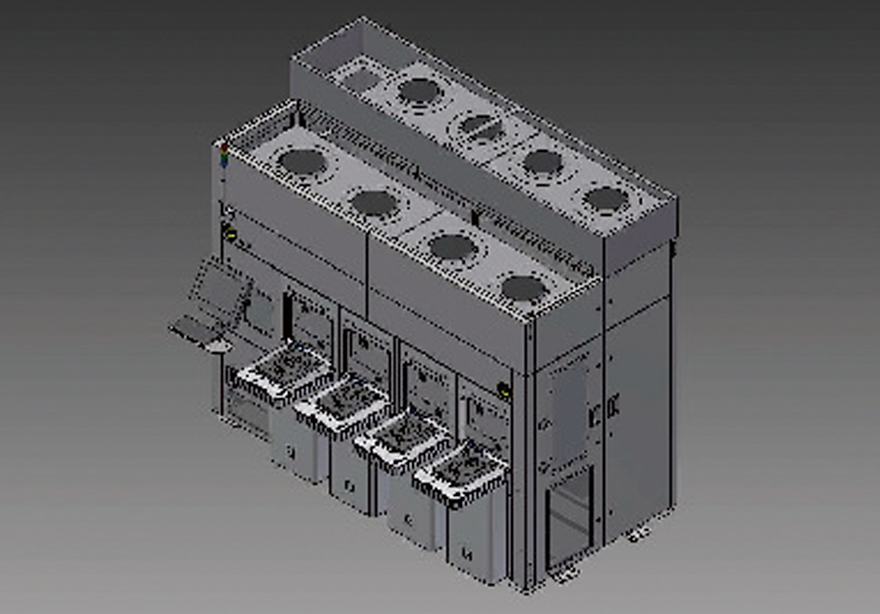 Product Features
The bare wafer stocker (BWS600) is the hybrid system that has both stocker function and sorting function (for sorting normal production wafers) by providing the wafer storage area at wafer sorter. Sorting and storing wafers with saving space are available.
Up to 600 bare wafers can be contained and the divided area control is possible.
The high speed unit configuration sorts wafers with a suitable transferring pattern.
The internal shutter mechanism isolates the minienvironment stocker section from sorter section.
The automatic teaching reduces the teaching time interval.
IDs on both front surface and back surfaces of a wafer can be read.
Main Specifications of the Product
Type

RSC172

Number of ports

4ports

Transferring object

300mm wafer: Φ300 ±0.2mm, Thickness: 775μm

Carrier

25-slot 300mm FOUP (SEMI E47.1) 25-slot 300mm FOSB (SEMI M31)

Power voltage

Three-phase 208V AC ±10%, 50/60Hz ±5%

Current consumption

14kVA (40A/200V AC) including FFU

Vacuum (source pressure)

-80kPa to -90kPa

Vacuum (flow rate)

50L/min

Positive pressure (source pressure)

0.6MPa to 0.7MPa

Positive pressure (flow rate)

50L/min
Product Dimensions (BWS600)
Option
Edge clamp
FOUP for the stocker-mounted type
N2/XCDA purge
Bar code reader and RF-ID reader
Ionizer
E84
Chemical filter
For request materials and inquiry about our products, click on
this link